Unit 90 – 4019 Aronec Avenue, Saskatoon, S7P 0E1
Ready to Get Started?
Sign up online and hit the ground running when you walk through the door! Read our Liability Waiver and fill out the form below to get started!
Want to break more glass without spending more cash? Bring qualified items from home! You may bring 1 box or bag of breakables per 2 people, or 1 mid-sized item per 2 people such as a printer, fan or lamp set. Please see FAQ page for which items qualify.
YXE Smash Therapy
Give yourself a break
About Us
Our team of Smash Therapists are about as unique as our title.  We are fun, friendly and perhaps a little mad.  We believe in the power of cathartic expression.  Each of us has overcome extraordinary obstacles… not unlike yourself!  This is an outside-the-box kind of place where everyone fits in and our goal is to bring you a great experience, whatever your reason for stopping by.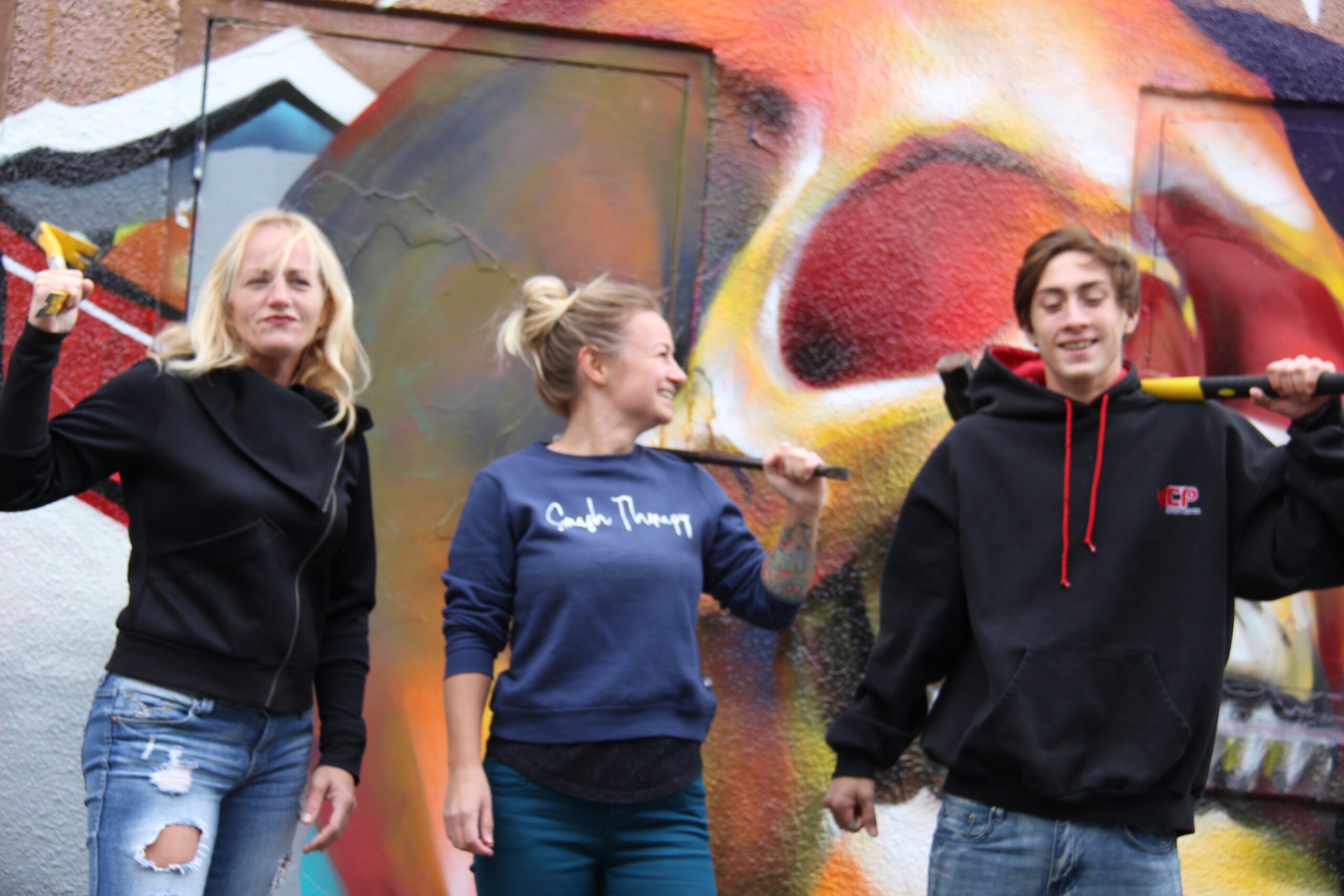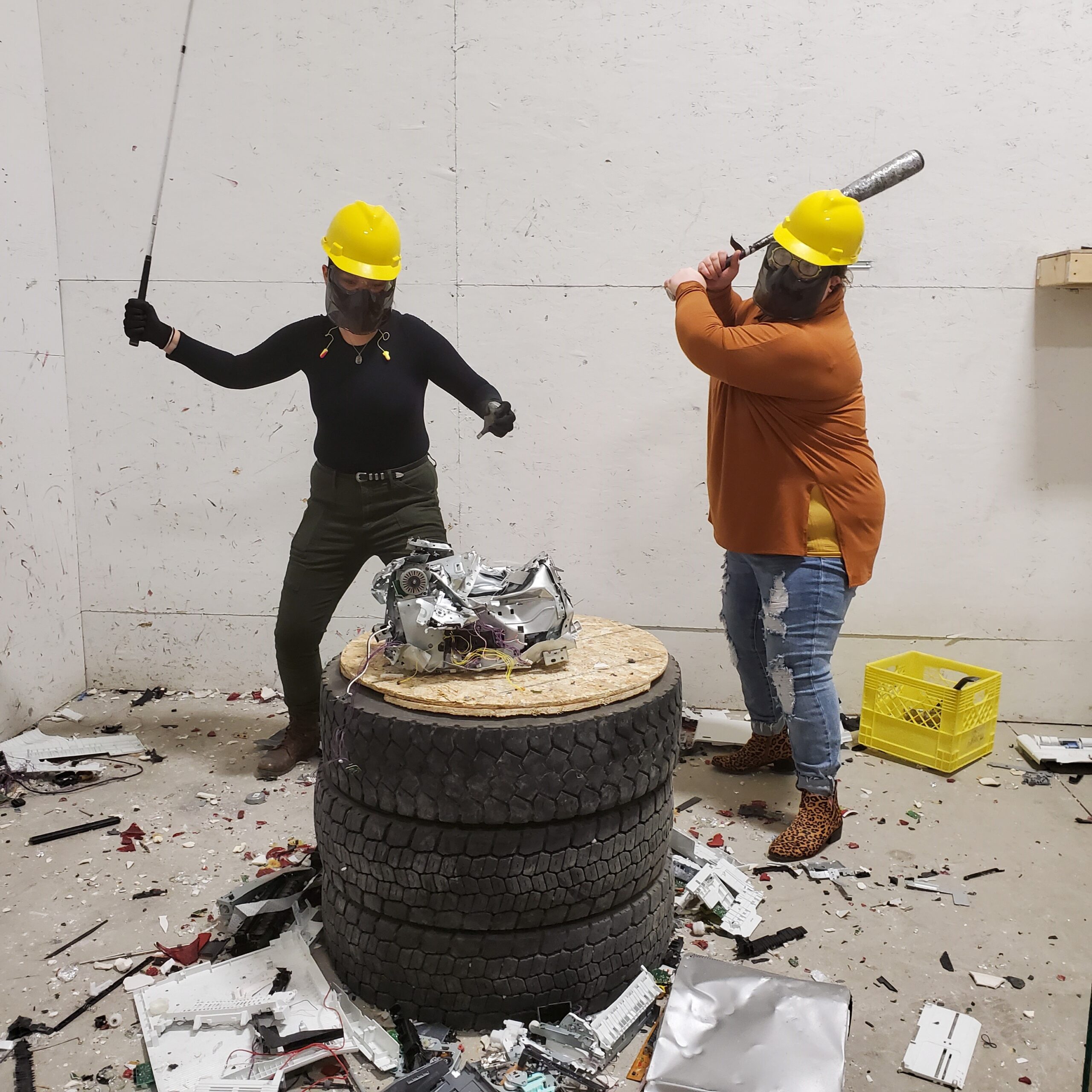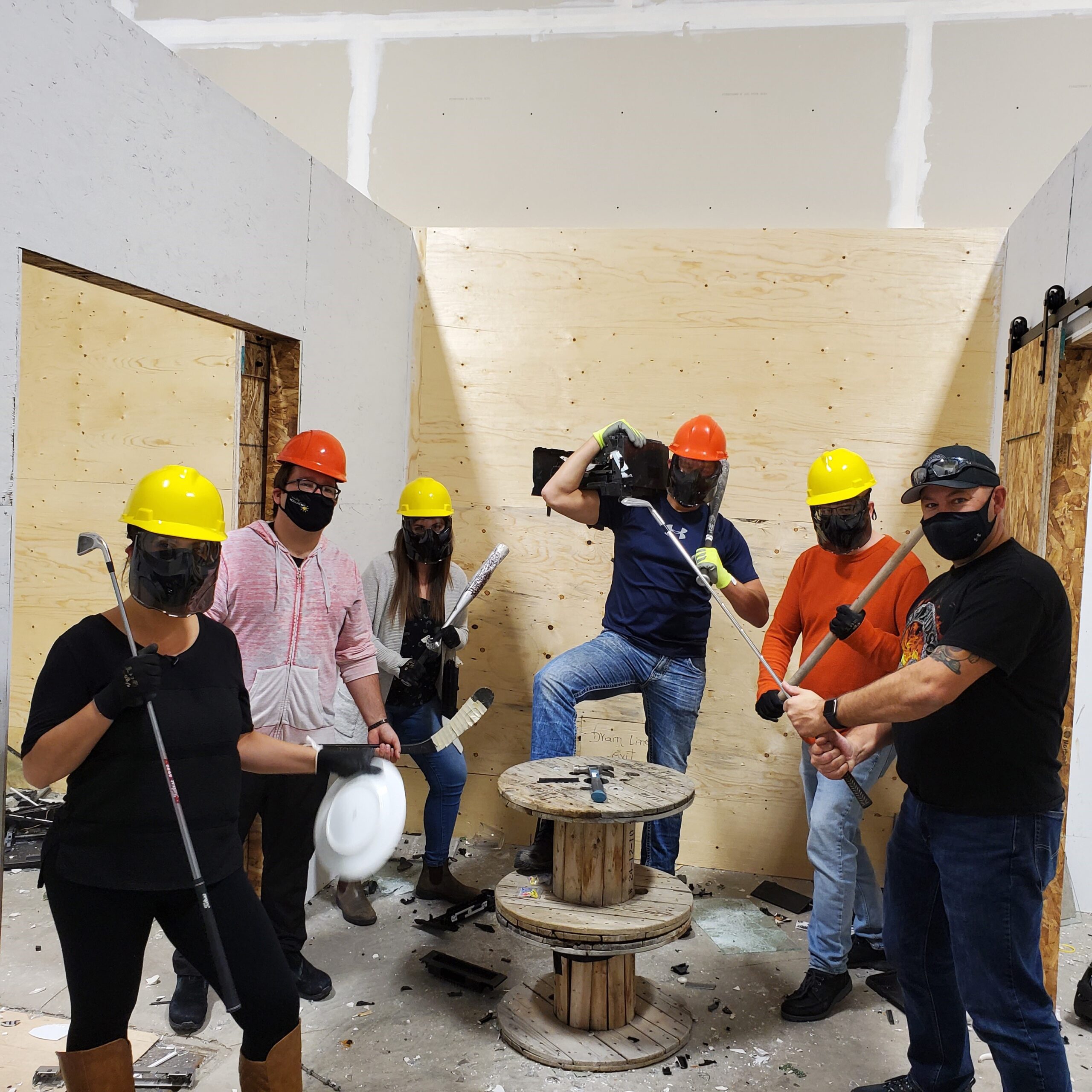 FAQ
Got questions? We've got answers!
What is this!?
Smash Therapy is the place to go when you want to let loose and break some stuff.  Maybe that unbearable person in your life is even worse than usual lately.  Maybe your beautiful children are driving you up the wall despite your very best attempts to stay patient and kind!  Or maybe you just got dumped.  Come smash some of that tension away in a private room while listening to some tunes and getting a little sweat on.  (Age 13 and up welcome, full adult accompaniment required for those under 16.)
All of life's frustrations aside…Smash Therapy is a hell of a good time!  We are also thrilled to be offering this new venue for small groups celebrating special occasions including birthdays, bachelor/bachelorette, office parties and date nights.  We clean up the mess while you cool down and rehydrate in the lounge.
Lounge? You serve booze?
No.  We don't feel alcohol and weapons are a great mix.  In fact, if there is evidence a guest has arrived for their booking under the influence of drugs or alcohol, they will be denied access to the rage room and asked to rebook.  Safety first!
Our lounge is a place to cool down, grab some water and maybe a snack from the vending machine.  Raging may engage your muscles in an unfamiliar way so if you need to rest them before heading out, please do!  Groups that have booked the entire space will have come-and-go access to the cool-down lounge during their time.
What do I wear/bring?
 Dress to save your skin from bits of flying glass.  This includes a long-sleeved shirt/sweater, full length pants and close-toed shoes.  We will provide you with sanitized goggles and face shield, a hard hat and gloves.  When the weather is nasty, please bring a clean change of shoes to wear inside.  There are hooks in each smash room to ensure the safety of personal belongings.
You are also free to bring some of your own breakables from home!
What are the rules?
We don't have many.  Just use the sense that seems to be less and less common these days.  NO hitting other humans.  NO hitting the walls with weapons or large objects.  NO jumping on items.  Let's be safe and respectful in the way we destroy inanimate objects… shall we??
Age 13 and up welcome, full adult accompaniment required for those under 16.
Cancellation Policy
Give us a call or email as soon as you can. Less than 24 hours notice or a no-show may result in forfeited payment.
Will there be music? Can we record video?
Yes!  We will provide a wide variety of mood music.  When you book the entire space (5-6 people), you control what is played.  Please record yourself or your group having a blast in our space and please post to social media.  Use your personal devices at your own risk!  We cannot replace anything that is accidentally broken.
Do you accept donations of breakables?
YES!  We are always SO grateful to anyone who has unwanted items they would give to us.  Donations can be dropped off during all business hours. PLEASE NO DUMPING! Check our social media pages for ongoing contests and additional office hours during which donations can be made.  To arrange pick up of a large donation (100 items or more) please give us a call!
What kind of items will you take?
We are looking for any item that would be satisfying to smash to bits!  This includes:
Plates, glasses, bowls, cups
Various sizes of décor, vases, statues
Lawn ornaments
Musical instruments
Keyboards, monitors, PC towers, printers
End tables, lamps
Small shelves and hutches
Small kitchen appliances (toaster, coffee pot, etc.)
PLEASE NOTE: We will not accept glass beverage containers or food jars, as these can be recycled in their whole state.  We follow safe recycling guidelines and certain electronics can pose a risk to you and our staff.  PLEASE no tube TVs or microwaves as these are said to hold a long-lasting electrical charge, even after being unplugged.
Why does the number of breakables vary with each package?
The items in your room will depend on the type of inventory we have at that time.  We strive to provide a nice range of things from small-medium electronics and various strengths and sizes of glassware and household items.  Additional items will be available to purchase ranging from 5-25 dollars, also depending on current inventory.
If you want to smash more than the allotted amount for your package but do not wish to spend any extra cash, that is fine!  You can bring some items from home!  They must however be approved by staff.  We will not be offering discounts to guests who bring their own items from home, as clean up and disposal costs are still a factor for us.
Isn't this wasteful and bad for the environment?
We are proud to say we have partnered with the Electronic Recycle Association with whom we have a system to ensure all possible materials are saved from the landfill.  We also will not have guests smashing items that could be recycled in their whole state.  We are simply giving end of life and unwanted items one last use before they end up in their final resting place.
What is the process when I show up?
Please arrive 5 minutes early to check in, browse our selection of add-on items and settle up (NO CASH accepted – sorry).  It is recommended to have read and submitted your liability waiver online prior to entering the building.  Paper waivers will be on hand if this is not possible. You will then suit up in your protective gear, go over the rules and get started in your private room.  Don't worry, you will never be put in a smash room with randoms - it could be fun, but more likely awkward.  When your time is up, grab your belongings and place your safety gear in the bins provided.  Since you have already paid you are free to leave or welcome to stay, recoup and rehydrate.